Lawbeille regularly interviews entrepreneurs about their Intellectual Property in the section "IP Stories". This time in IP Stories: Jeroen van Kooij, Rotterdam entrepreneur, founder of successful job placement agency Daan, and holder of several DAAN® trademarks. If there's anyone who knows what's important with entrepreneurship, it's Jeroen. His company Daan has been listed as one the fastest growing companies in the Netherlands for several consecutive years. 
1.
Can you introduce yourself and your company?
My name is Jeroen van Kooij, I live in the beautiful city of Rotterdam with my partner Mara and our two beautiful sons of 4,5 and 2,5 years. I started Daan eight years ago. 
At Daan, we believe in a world where jobs are enjoyable. We stand for excellent employment. Daan is a job placement agency specialized in the public sector. We have customers in healthcare, education and administration. We support our customers with both temporary as well as structural human resources issues. Whether it's an issue around scarcity, extra need due to peeks, specific knowledge or temporary replacement due to illness. We manage our employees in their ambitions and professional development. 
2. Did you know what Intellectual Property was when you started Daan? 
Of course. It still felt like a rather far-off matter, but I did know about the existence and purpose of Intellectual Property.  
3. What have you done in regards to Intellectual Property protection? 
At first I did nothing in regards to Intellectual Property protection. I was not aware of the risks of not protecting our Intellectual Property. When I registered my company name at the Chamber of Commerce, I also asked about important things that I should take into account. However, at the Chamber of Commerce they told me that if there was no other company located in the same region as I was, I could just start without any issues. Hence I vigorously started Daan and as we became more successful, we also started to become more visible. After 3 years however, we not only became more visible with our customers and candidates, but also with another company called Daan. This other company had registered its name as a trademark. It turned out that the advice given by the Chamber of Commerce was inaccurate, or at least incomplete. After 3 years of very hard work building our brand, we all of a sudden found ourselves being at risk of losing it. After contact with Melissa (of Lawbeille, ed.), we examined the possibility of registering our trademark, in which we fortunately succeeded.  
4. 
Why do you think it's important to take care of your Intellectual Property? 
My story speaks for itself. Of course you do not want to take the risk to lose your name and brand. Neither do you want your name or brand to be used by another organization. 
5. 
Do you have a specific Intellectual Property-learning experience that you want to share, and if so which one and what was the lesson? 
Register, register, register. Your brand is one of your company's most valuable assets and you should be very careful with it.
6. 
What is in your opinion the importance of Intellectual Property for an entrepreneur? 
For me it's the preservation of our brand. Every day we work very hard to further build it and therefore, our brand should never be at risk.
About
Name: Jeroen van Kooij
Occupation: Entrepreneur
Company: Daan
Trademarks: DAAN®, DAAN WERKT® and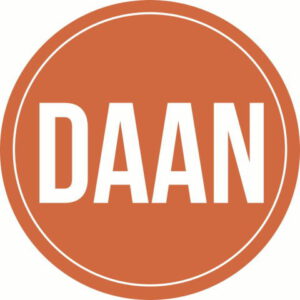 Miscellaneous: Daan is one of the fastest growing companies in The Netherlands and has been proclaimed as best employer 2019-2020.
Website: www.daan.eu
Instagram: @werkenbijdaan
TRANSLATION BY MELISSA MONCADA CASTILLO